Pursue a rewarding career in psychology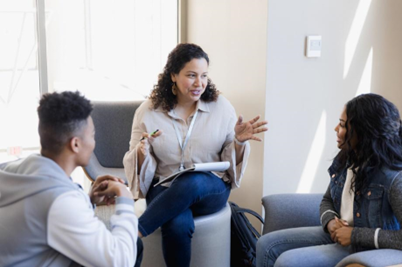 Mental health support has become a critical topic of conversation lately with so many people struggling with the events of the last few years. Isolation, depression and hopelessness are all feelings that seem to come up time and time again and more people are stepping forward to share their stories with the world. Mental health problems are no longer stigmatized and kept behind closed doors. With the increase in population coming forward seeking professional help to deal with their mental health disorders, there is also an increased demand for professionals such as psychologists. Psychology as a career is now more important than ever, and you can make a real difference in people's lives when you pursue this rewarding career. With a psychology degree in hand, you can use the knowledge you gain in areas of emotional, cognitive and social behavior to develop tools that help solve real problems for real individuals.
Why pursue a career in psychology?
According to the World Health Organization (WHO):
1 in 8 individuals worldwide live with a mental health disorder
Disorders can include disturbing thoughts, inability to regulate emotion and behavioral issues
Many types of mental health disorders exist in the world
There are existing treatments available for mental health disorders
Most of the world's population don't have access to adequate mental health care
The following disorders affect millions of people in the world. As a psychologist, you can study social processes and behaviors of those with mental disorders and record how individuals relate to their environment and one another. Once you have earned your degree, you may find that you want to go into private practice, which requires a license, or work with a team of other mental health professionals. Another area you may find interesting is working in a school as a social worker or counselor and guiding young people towards making good choices.
Behavioral disorders
These disorders are most common in young children and adolescents. Where some rebellious behavior is expected during the developmental years, chronic behavior such as regular drug and alcohol abuse or causing fights daily can be viewed as a behavioral disorder.
Anxiety disorders
Feelings of anxiety are not in themselves a reason for seeking psychological help unless the feelings persist and become life-altering to the individual.
Depression
Depression causes feelings of sadness beyond the norm that result in a lack of interest in activities that were once pleasurable. Depression goes beyond sadness that individuals feel when an event occurs such as a relative dying or ending a relationship. Depression is debilitating and can lead to suicidal ideation or self-harm.
Bipolar disorder
This disorder manifests in an individual as a very dark depression followed by a manic episode where the person is impossibly optimistic and prone to acting in an erratic and risky way.
Post-traumatic stress disorder (PTSD)
PTSD is prevalent among members of the armed forces as well as survivors from war-torn countries who have experienced violence on a regular basis. This type of disorder can last weeks after traumatic events, months or even years.
Schizophrenia
Schizophrenia can cause impaired thinking and delusions to the point of being debilitating for the individual. This mental disorder is characterized by delusions, erratic behavior and extreme agitation.
Eating Disorders
The majority of eating disorders begin in adolescents as a direct result of outside peer influences, and more recently, social media. Eating disorders fall into several subcategories, such as bulimia, anorexia, overeating and binging.
Students of psychology will learn about various mental health disorders and in some cases delve into case studies to get a better understanding of the effects of these disorders on individuals. Courses offer a fascinating look into the factors that contribute to these disorders and how the environment plays a role in either calming or exacerbating the disorder.
There are other disorders that fall into subcategories of those listed that can be effectively treated with medication and therapy. As a student of psychology, your job will be to study these and other disorders to understand how they develop, what makes the symptoms worse and how to create tools unique to the individual to help alleviate their suffering and support living a happier life. A psychologist differs from a psychiatrist in that psychiatrists are responsible for diagnosing and treating serious mental disorders. They have the ability to write prescriptions and refer clients for alternative therapies. A psychologist studies the behaviors and does research to understand treatments and responses.
How do I know if psychology is right for me?
If you are looking into the program, then chances are you are interested in one or more aspects of human behavior and mental disorders. If you feel that the study of how the brain works and what makes individuals act in a certain way is something that would interest you, then psychology can be a rewarding career path for you.
Are you a compassionate person who feels a deep empathy for those unfortunate individuals who suffer from mental disorders, substance abuse and other traumatic challenges in their lives.
Are you a good listener and able to listen with deep empathy and understanding to someone who is suffering from a mental illness?
Do you see the state of mental health in the country and feel it should be addressed and want to be a part of that?
If you feel strongly about any of these questions, then you should pursue a career in psychology and explore the online courses available to you.
Online courses offer solutions to busy professionals
What if you are passionate about getting a degree in psychology but you don't have the ability to leave your current responsibilities to go back to school full-time? The answer is online psychology degree courses. According to Forbes magazine, the demand for online courses and software platforms to provide education have been on the rise. It is forecasted that the online education market will be valued at $350bn by the year 2025. Online schools and courses are no longer viewed as lesser education. Now, highly rated universities such as Harvard and Stanford offer certain programs online.
Many organizations offer online degrees in the area of psychology, including a Christian psychology degree which teaches the fundamentals of psychology interwoven with Christian teachings. This type of psychology degree doesn't just apply to a career as a psychologist but can be integrated into many Christian-based vocations, such as church psychologists, counselors in Christian schools, or working closely with priests, deacons and other members of the clergy.
According to the American Psychological Association (APA), psychology is "the study of the mind and behavior". With its roots in philosophy, the study of psychology has grown into a diverse vocation with many branches of research. Psychology can be used for a wide range of purposes, including treating the individual for emotional and behavioral problems, or studying an environment and making recommendations on how to integrate tools to help that environment become more psychologically sound. A psychologist's primary purpose is to learn techniques based on research to help people live better lives. This is a simplified explanation for a much more complex process of delving deeply into someone's background, traumas and relationships to see why they make the life choices they do and help them make better ones.
Some important questions to answer on your way to pursuing a career in psychology:
Do I have the time?
The great thing about studying online is you can take as many courses as you have time for. So, if you want to take it slow and budget your time between your personal life and the course, you can do one course at a time. There are many dates that are convenient to choose from and you can tailor a class schedule that fits your lifestyle. The commitment is usually six weeks per course, so there aren't any lengthy semesters of three months or more. Organizations such as irreverent-learning.com can guide you in how to get started on a Christian psychology degree while fitting studies into a busy, hectic schedule.
Do I have the necessary qualifications?
The only thing you need to qualify for most online degrees is a GED and the desire to learn. If you have previous college credits, those can be applied to the current degree so you can finish faster.
Can I afford to get my degree online?
Most online schools provide financial aid for qualified applicants. The form is easy to fill out and the lender can structure payments to fit your budget. For veterans and their dependents, the benefits include financial aid for further education.
Will I be able to use my degree for a career?
The job outlook for those who possess this type of degree is very promising, as mental health problems have reached a crisis point in North America. A degree in psychology opens up avenues to many different careers in the mental health field such as:
Psychology – Research-based study of the mind and the factors that shape behavior.
Family therapy – Helping families understand one another and develop tools for effective communication and conflict resolution. This can extend to other relationships.
Substance abuse counselor – Helping people understand why they abuse a certain substance and giving them tools to help battle that addiction.
Marriage counselor – Helping couples navigate the challenging institution of marriage and guiding them through conflict resolution and understanding one another.
Child psychologist – Working with children suffering from trauma, behavioral issues or learning disabilities.
Life coach – Working with individuals to set goals and create plans to achieve those goals. A life coach helps with creating a plan and developing tools to achieve life goals.
Social worker – Generally work in communities helping individuals, families and groups deal with challenging situations.
Many more careers are also available with additional degrees and schooling using a Bachelor of Psychology as a foundation. These career paths include becoming a behavioral disorder therapist, psychotherapist or teacher.
The study of human behavior can also open up careers in non-mental health industries, such as sales, marketing and human resources. An understanding of how the mind works and what can influence a person's thinking are important aspects of these fields not related to mental health.
With some online psychology degrees, the student won't just learn the fundamentals of psychology, but a range of other specific skills such as:
Learn how to examine the key areas of an individual's life and help them develop habits that will get them closer to achieving their personal goals.
Learn how a person's personality develops by discussing current theories as well as historical data on the subject.
Learn how to listen and counsel individuals through theory and practical applications.
Study how an individual's behavior is influenced by the environment and people around them.
Learn about the disorders listed in the diagnostic manual (DSM-IV). You will learn about disorders from multiple perspectives and study case histories of these disorders.
Learn about all aspects of human sexuality from the biological to the psychological.
Students pursuing bachelor's degrees in Psychology will be taught the American Psychology Association's (APA) code of ethics, which sets the standards and principles that all psychologists need to adhere to when making decisions about client care. These five ethical principles don't affect personal conduct, but as a practicing psychologist or in a career using your degree in psychology, this code is binding.
The five ethical principles as outlined by the APA:
Beneficence and nonmaleficence – This first principle encourages psychologists to fight for the welfare and safety of those they contact on a professional basis. This principle requests that the practitioner sets aside any biases, prejudices or affiliations that could influence their work or treatment of a client.
Fidelity and responsibility – This principle suggests that psychologists have a responsibility to their colleagues and profession to ensure that the highest moral standards are upheld while practicing. This includes teaching new members of the profession, and teaching by example by volunteering in the community and mentoring a psychology student.
Integrity – Psychologists should never fabricate data in their research or lie about their profession or findings to better themselves or misrepresent an outcome. Psychologists should always be transparent and open to any scrutiny when it comes to their practice.
Justice – Psychologists should always act in a way that is impartial and fair and offer all clients any treatments available to them. This ethical principle also refers to psychologists acting within their learned field of expertise and making recommendations for other specialists should the need arise.
Respect for people's rights and dignity – Psychologists should always act with the utmost impartiality when dealing with all people regardless of ethnicity, gender or other characteristics subject to bias. This ethical principle stipulates that psychologists must always act with professionalism and respect the confidentiality of the individuals they treat.
Learning these five ethical principles as part of your degree shows you are a professional who understands the position you have been given. Abiding by these principles means you act with true integrity in all professional interactions.
A career in psychology can be rewarding and fulfilling as you aim to help people live their best lives. It is also a well-paid position no matter what career path you choose to take. According to the US Bureau of Labor Statistics, psychology-based vocations carry with them the following average salaries:
A psychologist can make $81,000 a year on average.
Marriage and family therapists make a little less than $50,000 a year on average.
Social workers make a little more than $50,000 a year.
Counselors that deal in mental health, substance abuse and behavior disorders make $48,500 a year on average.
School counselors and advisors make upwards of $60,000 a year.
The outlook for these careers can also be researched on the site for the US Bureau of Labor Statistics. The following percentages represent the growth between 2018 and 2028 for the jobs mentioned.
14% growth for psychologists
22% growth for marriage and family therapists
22% growth for counselors that deal with substance abuse, behavioral issues and mental health
8% for school counselors
8% for career counselors
11% for social workers
11% teachers (post-secondary)
Other jobs not related to mental health:
20% market research analysts
5% sales managers
7% human resources managers
The statistics show projected growth in the demand for these and other careers related to the study of the mind and behavior that require a degree in psychology. There are many options available in this exciting and dynamic field of study and earning your degree has been made easier with online options.
The field of mental health is quickly growing. If you have a passion for how the mind works and are looking to branch out in a career that is rewarding and meaningful, then you should apply to earn your degree online. With financial assistance and flexible hours of learning, there should be nothing stopping you from pursuing your dream.