How an online nursing course affects your employment potential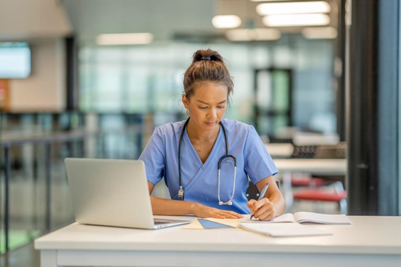 The internet is a one-stop shop for exciting content and information. While many internet users spend a tremendous amount of time on social media, you can get useful life resources such as a nursing degree online.
This is a popular route for nurses who want to further their education. But how beneficial are these online courses for your career goals? Due to the nature of the profession, there might be a preference for hands-on training. So, does an online nursing course influence your employment chances positively? Find out in this article.
What is an online nursing course?
A couple of years ago, online nursing courses involved listening to recorded lessons, but it is now far more advanced. There are workshops, discussions and other self-assessment measures available. E-learning has now become a significant option for nurses that want to further their education.
These courses equip nurses to make a difference in the field and empower them to take on leadership positions. Note that there are several levels in the nursing hierarchy and moving up the ranks usually requires additional educational qualifications.
For instance, there are many RN to NP programs available online if you wish to advance from a registered nurse to a nurse practitioner. In addition, nurses can obtain Master's degrees from well-known nursing schools.
Employer's perspective on internet-based nursing courses
There's a lot of emphasis on the real-life experience that registered nurses have in a clinical setting. The primary cause of worry is that these online programs might lack sufficient hands-on training. Fortunately, online training doesn't limit your employment potential. Many employers are comfortable with further online accreditations or training as long as you've previously acquired a degree from a recognized brick-and-mortar university.
To strike a balance, some of these institutions offer blended nursing programs, combining online learning with in-person clinicals. This reaffirms the relevance of online nursing courses. The ability to combine studies with work as a nurse sends a strong message of determination, which employers are on the lookout for.
Major advantages of online nursing courses
Online nursing courses offer a high level of flexibility that's usually not obtainable with traditional learning institutions. With online courses, nurses don't have to pause their careers. The nature of these programs gives nurses a convenient schedule that allows them to take on other responsibilities, such as work and family. This method of study is especially handy for nurses located in rural areas that are far from traditional institutions.
Learning in traditional educational institutions is also cost intensive. Besides the tuition, students spend a lot on housing, books and transportation. Online nursing programs have the upper hand in this regard. Firstly, you can study wherever you are. Secondly, these programs provide digital textbooks and course materials that are accessible over the internet.